Happy New Year to all!
I hope you've had an awesome time so far taking in and celebrating the New Year as much as possible and also trying out my New Year's Special recipe. Please +1 my last recipe post of 2015 if you liked it.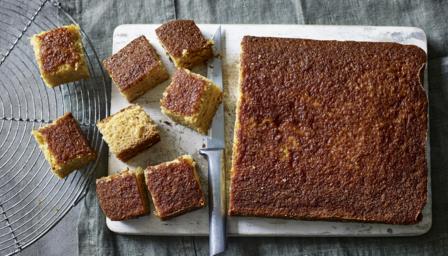 This week's recipe is .... Ginger Sponge Cake. It's a very simple-to-make teatime sweet treat that I've eaten maybe once or twice but have never made. If you guys also haven't attempted to bake a Ginger Sponge cake then don't worry - we're all in the same boat.
In order to bake this sponge cake, you'll need the following:
- 200g/7oz of self-raising flour
-200g/7oz of sugar
-1 tsp of ground ginger
-55g/2oz of margarine (NOT butter) and a litter extra for greasing
-1 free-range egg, beaten
-1 tbsp of golden syrup (hmm! Sticky and sweet)!
-240ml/9floz of hot water
Equipment needed:
Mixing Bowl
Free-standing mixer
Wooden spoon if you like to mix things the old-fashioned way
28cm x 18cm or 11in x 7in baking tin
Method to baking this sweet treat:
As always, pre-heat the oven to180c/350F Gas Mark 4. Grease and line the baking tin with baking or greaseproof paper.
Mix together the flour, sugar, ginger and bicarbonate soda in a bowl until combined together. (the picture to the right isn't exactly what the mixture is supposed to look like).
Add in the beaten egg, syrup and hot water and mix well.
Then, pour the mixture into your prepared tin and bake in your pre-heated oven for 35-40 minutes or until golden brown and springy to touch.
Leave to cool in the tin before cutting into squares and serving.
To watch this cake being made, visit the BBC Food website.
Link:http://www.bbc.co.uk/food/recipes/ginger_sponge_cake_51697
I hope you've enjoyed this week's recipe. Please do comment and +1 today's recipe below. You can also email me to the address : chocolatecupcakes08@gmail.com.
Happy baking!
#sweetreats xxx