Hiya fellow bakers!
I hope you have had a merry Christmas full of positivity, fun and PLENTY of baking (yesterday my family and I ate the hot chocolate cake I baked on Christmas Eve; the recipe was posted on the same day).
Today's recipe is the FINAL blog post of the year (don't worry- on New Year's Eve I'll post a New Year's Special) and I thought what better way to end this baking term by listing 2015 Top Twelve sweet treat recipes (selected by me)! I hope you agree with my chosen recipes and like them as much as I do!
My top-TWELVE sweet treat recipes start with:
1) January: New Year's Cake- Everyone always loves a New Year's Cake to celebrate the new year. I feel like this is such a special sweet treat only because it shows how special and important the New Year actually is.
2) February: Gluten-Free Venetian Carrot Cake- one Monday (in February this year, I can't remember what the channel's
called) at around 8.p.m, I were watching Nigella's Kitchen and I saw her make this cake and it just looked so... delicious, it made my mouth water and hmm..just it was so satisfying and definitely a must-have recipe for February- later on next year, I might upload this recipe onto BakingBoutique-keep your eyes open for that if you're interested.
3) March: Flower Surprise Cupcakes- I found this cupcake recipe surprisingly in a book written by Cathy Cassidy. This
book is called The Chocolate Box Secrets and it's filled with recipes, D-I-Y activities and crafts and it's just such a lovely book to have. It's very handy, useful and you learn something from reading it.
4) April: Bake well Tart- I always love to eat a home-made bake-well tart in April because April is that time of year when the weather becomes warmer BUT it's still
cold and I find that this recipe relates to that because it contains summer fruits but it can be served on a cold day.
5) May: Whisked Victoria Sponge- I chose this recipe for this month because:
1. I've definitely eaten this cake sometime in May.
2. I chose this recipe because it contains the jam of one of my FAVOURITE summer fruits.
3.You'll definitely see this cake somewhere at a summer tea party.
6) June: Picnic brownies- I absolutely love picnic brownies. They're so delicious, fun to bake and just quite a summery sweet treat even though I eat a dozen of them and then have to gulp down a whole glass of water.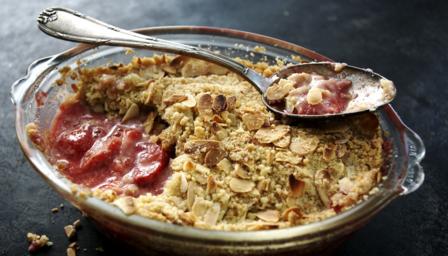 7) July: Strawberry and Almond Crumble- I was going through the BBC Food website because I wanted to make something to celebrate my leap from primary to secondary and I found this recipe. It's not a difficult recipe and it tasted great!
The link for this recipe is:
http://www.bbc.co.uk/food/recipes/strawberry_and_almond_38519
8) August: Summer Pudding - Once again I found this summer recipe in the book "The Chocolate Box Secrets". It's pretty simple but the results are AMAZING!
9) September: Fairy Cakes- I chose fairy cakes as SEPTEMBER'S highlight recipe because
this was the month where I'd bake ALOT of fairy cakes. Some batches were successful(maybe three, two...or ONE batch) and there were other that were unsuccessful (most of them were). That's why there is NO way those fairy cakes in the picture above are mine.
10) October: Star-shaped cinnamon biscuits- I have picked biscuits for October because the weather begins to change and so do the seasons . And personally I feel cinnamon does a good
job of comforting and helping you get used to all of the changes even though cinnamon is better suited for Winter and not Autumn.
November: BBQ Parkin- Yes for November's recipe I have picked one of my own recipes. I find that BBQ Parkin is a very festive and November- inspired recipe, especially if it's traditionally eaten on Bonfire Night. Besides, it gives me an excuse to invite friends round and hold a BBQ!
December: Rich Fruit Christmas Cake
(obviously)- I was hard to choose between Christmas Pudding or Christmas Cake for December but I feel that Christmas Cake is more traditional in my opinion and it gives that festive feel and vibe when you eat it. Besides, it's a lovely cake to bake!
Thanks you SO much for viewing my blog and staying tuned EVERY week for new post this year.I hope you've enjoyed my recipes as well as been inspired to bake more often.
Please comment on my Top Twelve sweet treat recipe list and let me know whether you disagree or not. If you have any suggested recipes that you'd like me to post for next year, please e-mail me to: chocolatecupcakes08@gmail.com with the title of the e-mail "Suggested Recipe".
I hope you've had a wonderful Christmas and have a happy New Year and don't forget to check out BakingBoutique next week for a New Year's Special!
See ya,
#sweetreats xxx